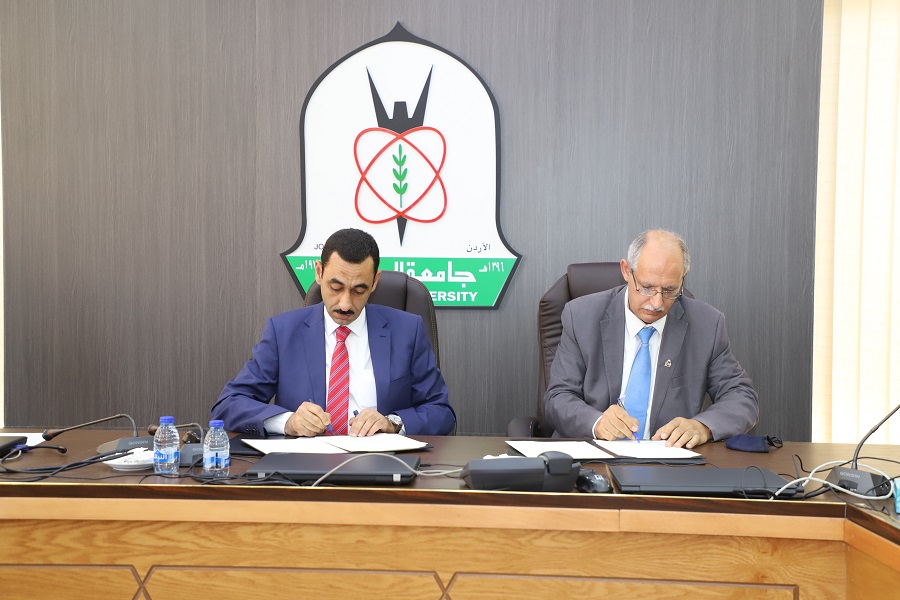 Memorandum of understanding between Yarmouk and the Jordan Food and Drug Administration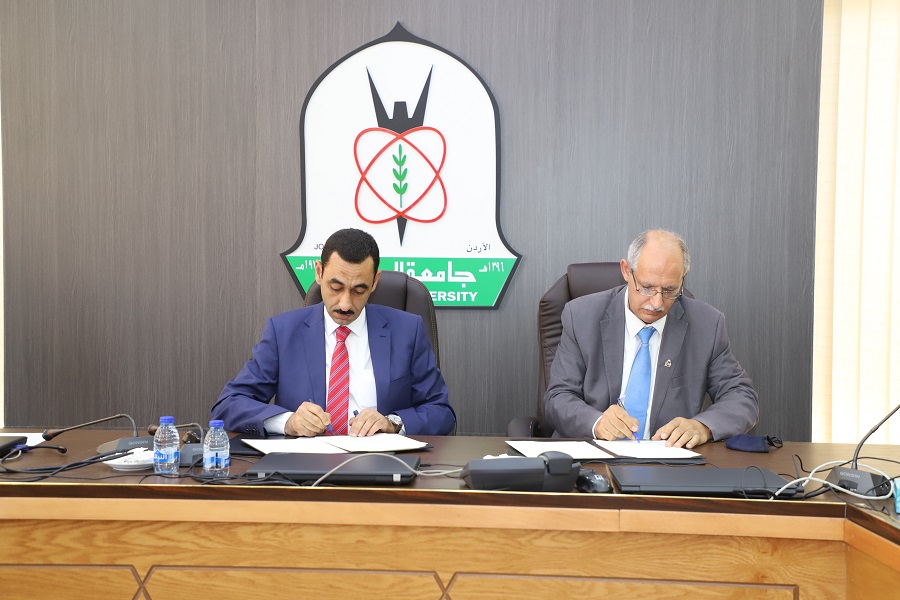 A memorandum of understanding was signed at Yarmouk University with the Food and Drug Corporation in the field of exchanging scientific experiences, training students of the Faculty of Pharmacy at the university, and conducting joint scientific research. The memorandum aims to consolidate cooperation and partnership, and enhance the exchange of experiences in the academic and professional fields between the two sides, as it was signed on behalf of the university. Its president, Dr. Nabil Al-Hailat, and the Foundation's general manager, Dr. Nizar Mhaidat.
 During the signing ceremony of the memorandum of understanding, Al-Hailat praised the important and pivotal role played by the Food and Drug Corporation in verifying the safety and quality of food and its safety for human consumption and the effectiveness of medicine and related materials, pointing to the keenness of Yarmouk University to develop partnerships that would raise the educational level it provides and raise the level and competencies its educational outcomes.
 He added that Yarmouk University seeks to excel and embody the spirit of leadership and creativity in the quality of education, originality of scientific research and community service, and to prepare qualified and trained graduates that meet the requirements and needs of the labor market, and is keen to stimulate pioneering talents and creative ideas among students and launch them by providing the appropriate environment to stimulate their latent energies Providing training opportunities in cooperation with various national institutions, which contributes to preparing them and arming them with the necessary skills to engage in the labor market and embody the knowledge and sciences they have received in order to serve and develop public sector institutions in a way that advances the wheel of development and reform in all fields.
 In turn, Al-Mahidat praised the scientific reputation that Yarmouk University enjoys in various scientific and academic fields, stressing the readiness of the Food and Drug Corporation to cooperate in all areas of common interest, which contributes to preparing and qualifying the students of the College of Pharmacy at the required level, and integrating the academic and scientific side with the practical in conducting applied research within The scope of the institution's work in a way that contributes to the development of the services provided by the institution to the local community.
 The memorandum of understanding stipulates that the Foundation will train a number of students of the Faculty of Pharmacy at the university and introduce them to the various fields of work of the institution, its departments, food and drug directorates and laboratories, how to control food establishments, local and imported foodstuffs, control over pharmacies and pharmaceutical factories, and learn about pharmaceutical manufacturing practices. Good, in addition to controlling medical devices, supplies and cosmetics, and the mechanisms of control and regulatory work on tobacco and its products, including electronic cigarettes.