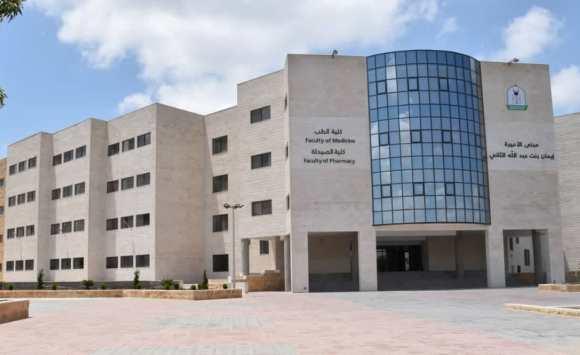 The Faculty of Pharmacy was reopened in Yarmouk University in 2013 after it being transferred to Jordan University of Science and Technology in 1986 to be part of the Faculty of Medicine.
The College began as a guest at the Faculty of Economics and Science until the Princess Iman Building was established at the southern headquarters of the University in 2019, which was funded by a generous grant from the Abu Dhabi Fund for Development at a cost of JD 6.5 million with a total area of ​​21,000 m2 and a capacity of 3,000 students.
The B.Sc. Pharmacy degree programme in Yarmouk University was launched in 2013 by a decision of the Higher Eduacation Council. The Bachelor's degree is awarded after successfull completion of the program within a maximum period of 5 years (165 credit hours). The program focuses on the primary responsibilities of the pharmacist in the field of health care and industry, to prepare graduates to work in various fields of pharmaceutical business in R & D, academia, industry, marketing and pharmaceutical companies and warehouses.
Here. at the College of Pharmacy, we are committed to providing the community with  pharmacists who are experts in:
Prescription dispensing and patient councling with taking into account the legal and ethical dimensions of pharmaceutical practice and products.

Detecting drug related problems and providing appropraite education for optimim medication use.

Providing fellow health-care professionals with accurate information and immediate advice on pharmacological and drug use.
Job Opportunities
Community Pharmacies.

Hospitals Pharmacies.

Clinics and medical centers.

Pharmaceutical companies - marketing and regulatory departments.

Drug factories

Drug Research and Development Centers.

Insurance companies

General Organization for Food and Drug Administration and the Ministry of Health.