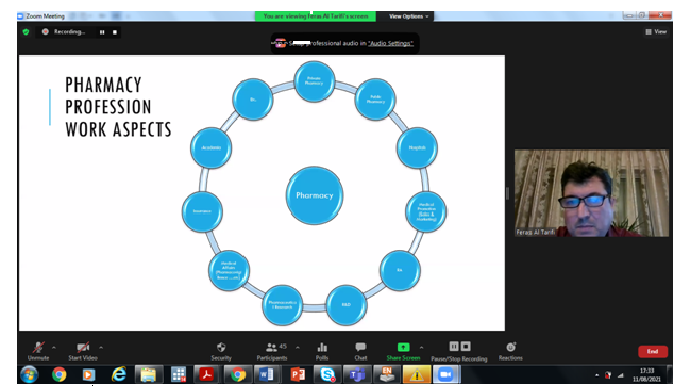 The Faculty of Pharmacy at Yarmouk University hosted Dr. Pharmacist Firas Al-Tarifi, Director of Strategic Business Development and Director of Central Bidding at Al-Qadam Pharmaceutical Industries.
 During the lecture, Dr. Al-Tarifi provided an insight on the fields of pharmaceutical work in Jordan and the region, and the advantages, opportunities and challenges facing each field. Dr. Al-Tarifi also noted the importance of linking theoretical knowledge with the practical field and preparing good pharmacy students and graduates to enable them to advance the pharmaceutical profession locally and globally. Dr. Al-Tarifi stressed the need to seek early work to find job opportunities for students and graduates of the College of Pharmacy, to define a clear career path.
At the end of the lecture, Dr. Al-Tarifi answered the questions and inquiries of the audience. The lecture was attended by a number of Faculty of Pharmacy students and faculty members.