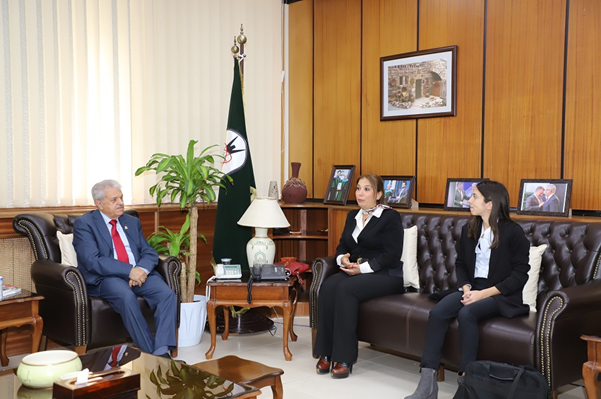 The President of Yarmouk University, Prof. Zeidan Kafafi met a delegation from IQVIA Office of Health Systems Services, which included the Director of the Office, Dr. Rania Bader, and the Public Health Specialist, Rana Mdanat. The two parties discussed possible cooperation in the field of scientific and clinical health studies, the providence of a database on medicines, and other areas of experience exchange.
At the beginning of the meeting, Kafafi confirmed Yarmouk's keenness to develop and modernize the educational process in the various faculties of the university, especially the faculties of medicine and pharmacy, and to build bridges of cooperation with various medical and health institutions in the world, pointing out that such a strategy results in exchanging experiences and keeping pace with developments in the medical sector in the world. He also emphasized the use of the latest educational methods that contribute to the preparation and rehabilitation of the faculties' students and make of them skilled physicians who can perform their mission of providing sound medical and diagnostic services for patients. He explained that this program exposes students to job opportunities at the local, regional, and international level on the one hand, and advances the medical sector in Jordan on the other.
In addition, Kafafi expressed the university's readiness to cooperate with the company of Equity Health Services in the field of clinical studies and referred to the possibility of benefiting from the databases and health technology systems provided by the company, considering Equity as one of the leading companies in such a field at the international level. Moreover, he stressed the possibility of cooperating to preparing a feasibility study for the educational hospital that Yarmouk University plans to establish in order to provide medical services for the inhabitants of Irbid Governorate and to train students of the faculties of medicine and pharmacy.
In return, Bader illustrated the services provided by the company in the field of linking technological health information with clinical studies, providing information for the technological systems of the health sector, and conducting research projects and clinical studies in various medical fields. Bader pointed out the company's keenness to extend bridges of cooperation with Yarmouk University and the possibility of composing a cooperation agreement in the areas of common interest. She explained that the company can benefit from the expertise of the faculties of medicine and pharmacy, which may contribute to the advancement of the scientific medical research in Jordan.